Assistive Technology in the Special Education Classroom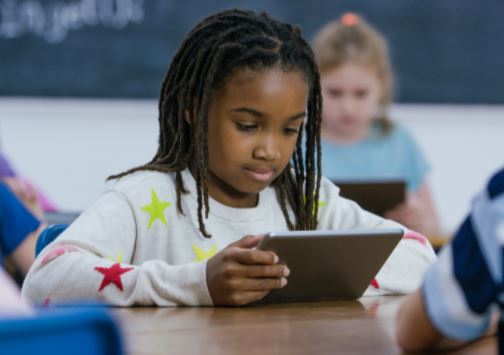 "For people without disabilities, technology makes things easier. For people with disabilities, technology makes things possible."
 -Unknown
What is Assistive Technology?
The official definition of assistive technology is "any item, piece of equipment, or product system, whether acquired commercially off the shelf, modified, or customized, that is used to increase, maintain, or improve the functional capabilities of a child with a disability."
In a nutshell, assistive technology is any tool, program, app, or device that helps to provide equal access to the curriculum. It gives students the capability to actively participate in their education to the best of their ability.
Why do we use assistive technology?
Allows students to work around their challenges in order to access the curriculum
Gives students more of an equal footing, giving all students the same opportunity & provides equity in education
Builds on student strengths to find success in academics & in life
Helps to foster independence
Can reduce stress for students when it comes to school work and academics
Helps students to communicate more clearly
What is low tech assistive technology?
Low tech means resources/tools that are not expensive and don't require much training to use. They generally have simple features.
Examples of low tech resources are:
Buzzers
Overlays, visual schedules
Post its, pencil grips, raised line paper, highlighter tape
Manual made eye gaze, slant board
Velcro, talking calculator
Switches (i.e. Big Mac), adapted keyboard
What is high tech assistive technology?
High tech means technology refers to equipment that is more complex, require training, and mostly can have a high price tag.
Examples of high tech tools are:
AAC (augmentative or alternative communication) device
E-Readers
Powered wheelchairs
Touch screen devices
Word processors
Speech recognition devices
Switches and scanning devices
Assistive technology can be used for both distance, hybrid, or in person learning. There are so many more apps, programs, and resources to explore and implement in your classrooms today. Assistive technology should be part of our daily instruction to help all students get access to the curriculum, participate actively in their education, gain independence, and find success in school & in life. There are many programs/applications that can help provide equity for students.
A few apps/programs in various subjects to try:
Chrome Extensions Chrome has some awesome built in extensions that can really give students support they may need. They have features like speech to text, text to speech, word prediction software, picture dictionary, Read & Write etc. Students can get text read to you from all types of documents in Google drive and you can also adjust reading rate & voice.
Apple Extensions Many of us are familiar with Apple devices. There are so many features you can turn on if you go to the settings/accessibility page in your device. Some include inverting colors and Speech Selection, etc. Go explore!
CoWriter . Automatic speech to text, word prediction software, can be installed to be used on websites, Word, email, tablets etc. … topic dictionaries to help students develop writing and write more complex.. spelling and grammar help..
ModMath Touch screen math application where students do not have to use paper & pencil. The teacher sets up problems, students use an in-app keyboard solve and either email or print a copy for the teacher.
Proloquo2Go A symbol supported communication program that is GREAT for introducing and working on core vocabulary for students who require a communication device. You can adjust and individualize each page depending on student needs.
Snap & Read Universal This is a Don Johnston product that is used as a text reader, text leveler, and translator. It is able to adjust reading passages without changing the purpose/meaning of the passage.
EduCreations (screencasting app) – Students can record themselves solving math problems and share with the teacher.
Kidspiration/Inspiration Students can manipulate pre-made templates (or make from scratch) to map out vocabulary, definitions, take notes, make outlines etc.
Popplet Program used to create graphic organizers.
Start 2 Finish Books Leveled books ranging from pre-k to chapter books. Students follow along with hard copy or on the computer as it reads to you. There are also comprehension sheets go with higher leveled books.
Flashcards Deluxe Make flashcards with this app. The app allows up to 5 sides for each card, so you can put as much info on them as needed.
Explain Everything This is a whiteboard app that allows for interactive screencasting while incorporating videos, text, instructional slides etc. It can even send assignments to students, where they can record their handwriting/dictation and send it back to the teacher for review. This is just the tip of the iceberg.
Quizlet or Cram Great tools for studying, creating flashcards etc.
There are SOOOOOOOO many new apps and programs always coming out, so this is just a short list to get you started. It's so important to find age appropriate tools/apps that support student learning and allow them to have every opportunity for success (in school and in life). These days there are apps for almost everything, so no matter what level your student is on or what difficulties they may face, there's probably something out there to help. You can also consult with your county Assistive Technology Specialist for classroom tools regarding specific student needs.