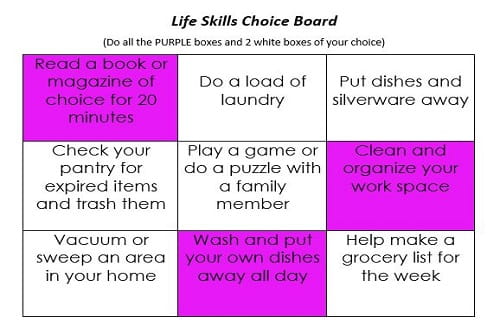 Choice boards have become pretty popular during the pandemic due to virtual schooling/instruction and teachers finding new, creative ways to encourage learning, but they've been around for a while! Choice boards are graphic organizers made up of various amounts of boxes (9 being the most popular) where students can learn about a topic/subject in a different way.  Each box is filled in with an activity that students can complete to learn, reinforce and build on skills, and expand their knowledge. Students are given the choice to do one or more of the boxes (teacher discretion). This allows students to feel that they have a say in their education because they are given the chance to choose how to learn.
Choice boards offer a way for teachers to differentiate instruction while providing activities that will also encourage the students and promote learning. When creating choice boards, it is important to include activities that target every type of learning style. Give students the chance to explore each skill/topic in a different way.
Things to keep in mind while creating choice boards:
Target every type of learning style. Choice board activities can't be geared only one type of learner, you should come up with different activities so all types of learners feel comfortable with some of the choices. Try to have at least one activity that targets each specific learning type (visual, auditory, kinesthetic, etc.). After that, you can include other activities that target multiple modes of learning to encourage growth. This way, students feel very comfortable with some choices and know they will have to work harder with other choices.
Be clear with your directions. Keep in mind, each activity & instruction set has to fit in the box so don't add too much extra verbiage. Be clear and to the point so there are no questions about the activity that needs to be completed.
Include activities that have different difficulty levels. Similarly to modifying in order to reach all types of learners, you want to also include activities that vary in difficulty. This allows students to feel a sense of accomplishment over completing some easier activities while having to spend more time completing harder activities.
Give a free space. Everyone likes freebies, that includes your students! Give them a 'free space' box or you could also have a box that says 'your choice' where students can create an activity that is relevant.
Get creative. Have students choose boxes to make a tic-tac-toe, color some of the boxes and have students 'do all of the white boxes and choose 2 of the green boxes', choose any 4 boxes to complete, etc. There are many ways to implement the use of choice boards.
Choice boards can be modified to use with students at all age and skill levels.
You can use choice boards in any subject! You can change your choice boards every week or day depending on what lessons you're teaching, skills you're working on, or whatever goals you're working towards with your students.
It also gives students time to work independently while working on other life skills like time management, work completion, following directions etc.
Here are a few different variations of general activities you may be able to incorporate into your choice boards:
Cut & paste activities
Sequencing, matching
Writing prompts
Go to _______ website and complete ______
Explain _______________ to a parent, guardian, or sibling
Read _______ pages/chapter of a certain book or text & write a summary paragraph
Physical activities (jumping jacks, something to get moving)
Write steps & explain for ______________ (life cycles, tasks, etc.)
Complete 'x' number of math problems
Cut out a picture from a magazine & write 3 facts about it
Watch a video clip, CNN 10, etc. and explain what you learned (in writing or pictures)
Create a google slide or power point slide about ______________________
15 minutes of your choice activity
Puzzles, games, or something fun
Here are a few examples of general choice boards (not specific to one topic in the subject) that were used during virtual instruction.