Community Work Experience Ideas For Your Students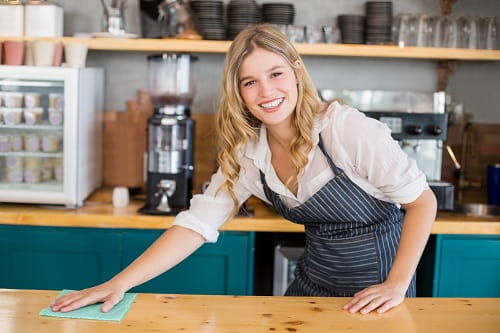 Similar to taking our students into the community to learn how to navigate their environment, our students also need to learn how to work in the setting they will be working in. Our students may have difficulty generalizing skills so this is the best way to ensure they will learn the skills they need to be successful in a job. Some of our learners are not ready to go into the community for a job site, so I've listed some in school job ideas as well.
In School Sites:
Mail Delivery- have students decorate file folders for each teacher who wants to participate. Put folders into an organized bin/cart. Daily, your students can go empty out mail room boxes and deliver mail to teachers around the school.
Coffee Cart- start a coffee cart business where your students push a cart around to teachers buy cups of coffee (this takes a lot of preplanning based on your school and students).
Laminating- If you can house your school laminator, this is a great one. Have teachers drop off laminating for your kids to laminate or cut out. They can deliver to teaches when finished.
Copying – Have teachers drop copies they need (how many, special directions etc.). Make sure you tell them a turnaround time that is reasonable for your students.
Cafeteria Jobs- cleaning tables, sorting condiment packets, laying out frozen cookie dough for baking, etc.
School Library Jobs- removing due date labels, putting books back, organizing computer labs etc.
In class workboxes (sorting by color/shape/size, assembly of packets or items, putting screws together, erasers on pencils, stuffing chick fil-a happy meal bags, assembling pizza boxes for your local pizza place, folding towels or matching socks, keyboarding etc.)
Cleaning lockers, sweeping floors, mopping, emptying or filling a dishwasher, doing laundry, wiping desks.
Recycling- push around the big trash cans and collect recycling from each classroom once a week and dispose of it in the proper place.
10. Front office- stuffing mailboxes (with flyers from clubs or organizations), assembling school packets that go home with students
Community Based Sites:
Local or private gyms- fold towels, wipe machines
Pet store- item stocking, straightening the store/fronting, sweeping, cleaning windows, inventory, other cleaning tasks
Grocery store – fronting, putting items back, cleaning tasks
Hotels- restocking shampoo/conditioner/lotions etc. onto hotel carts, assisting with cleaning rooms/making beds/vacuuming, wiping tables, laundry, trash
Library- helping with putting books back, alphabetizing, removing due date labels
CVS or convenient stores- fronting, cleaning, restocking shelves
Book store- restocking books, straightening books/shelves, putting books back
Local restaurants- some restaurants may let your class come before busy hours to clean tables, wipe windows assemble silverware bundles, fill salt/pepper shakers, etc.
Salons- sweep floor, put items back, keep magazines organized, restock shelves
10. Pizza Place- assemble boxes, prepare pizzas, clean
11. Hardware store- stock items, fronting, cleaning
12. Elementary school libraries- if other schools need help organizing books, shelving etc.
13. Day Care- supervised environment to learn about child care
*These are just a few ideas but go around your community and see what opportunities lay there for your students!