Games For Kids With Autism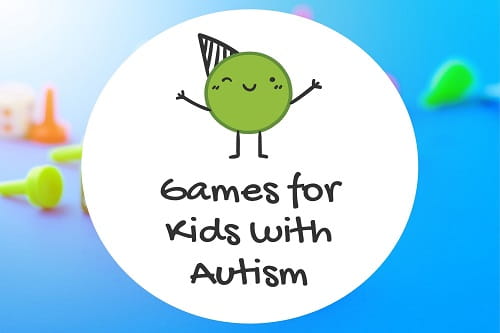 Teaching our students functional life skills is one of our most important jobs when it comes to being a Special Education Teacher. One way to do that is to teach skills through playing games. It is a great way to get students to interact with others, practice social skills, and apply life skills lessons as well. Here are a few games for kids with Autism suggestions to use in your classroom. There are also many ways you can play these games with modifications for your students.
Candyland
Candyland is an easy game to learn. It's just requires matching colors, a few pictures, and moving your piece. Students of course also learn taking turns and interacting with others. You can also adapt the game for your kiddos that have trouble remembering which colored piece is theirs or moving along the path. It's also a good idea to teach the concept of moving forward/backward.
Jenga
Jenga is a fun, easy game as well. Students may need help learning how to assemble the tower. But after that, it's just about taking turns, looking for pieces to take out, removing pieces, and stacking them on top. Make sure students know that when the tower falls, it could be loud so they can be prepared! It also teaches students how to lose, because someone will lose.
Uno
Uno is a great card game to practice matching colors, numbers, and symbols. Students practice taking turns and following the rules of some of the other cards, 'reverse, draw 2, etc.' You'll definitely need to introduce those cards beforehand, but most students enjoy uno. Some kiddos have trouble remembering to say, "UNO!" when they have one card. You can even adapt the game and take that rule out if feel it's too much for your students.
Kerplunk
Kerplunk is also another great turn taking game where students have to look and see which piece is best to remove. The marble dropping can also get loud.. so a few practices of hearing them beforehand would help for your sound sensitive kids.
Puzzles
Puzzles are great for many kids. You can get jumbo piece puzzles that range in ## and size. My students enjoyed floor puzzles as well. You can pick these up for cheap from yard sales too!
Go Fish
Go Fish is a fun and easy game for kids with Autism to play too. Like every other game, turn taking is a big skill. Go Fish lets you work on number identification, matching numbers, and practicing social skills/speech by asking someone else for a card.
War
War is another great game. Students need to know which number/card is bigger/more so they can win that match. Person that gets all the cards first, wins! It may be difficult to teach and learn what happens when there is a tie- so depending on the students, we would modify or take this part out.
Guess Who
Guess Who is a fun came to play, where students may need a little help. It's difficult to ask the questions and put down the 'opposite thing'. We definitely had this as a game to play with our peers to make sure it was being played correctly. Some of our higher functioning kids enjoyed this one though!
Connect Four
Connect Four is an easy game to play where turn taking is a must! Also, learning how to lose is also a big one! Some students don't really learn strategy/blocking, but as long as they know to aim to get 4 in a row, they can play!
Bingo or Zingo
BINGO or ZINGO is a good group game for students to practice listening, identification of pictures/letters/words, following directions, and recognizing when they have a Bingo!
Sports
Outdoor activities are great for our students. It can be simple things like rolling or bouncing a ball back and forth. Students can shoot hoops, play with hula hoops, kick soccer balls around, and more! It's also great to get peer buddies involved too. Students practice playing games, taking turns, and interacting with other students. Games for kids with Autism is definitely not limited to just board and card games! Get them out there to play physical games too!
Memory
Memory is another great card game to play. The rules are relatively easy to teach and understand. Students practice turn taking, identifying if the 2 cards are the same vs. different, and if they match.
Trouble
Trouble is a fun game since there's the popper in the middle. Students will need to be taught the rules of getting your pieces to the middle column but most students love popping the dice to see how far they get to move!
Don't Break the Ice
Don't Break the Ice is another game sort of like Jenga where students take turns hitting the pieces of ice out of the board. When the little friend falls, you lose! Students may need putting the ice together though!!!
Pop up Pirate
Pop up Pirate is another similar game to all the rest! Take turns pulling out the swords and when the pirate pops up, you lose! Again, one of those games where your kiddos might need a warning so they are not too shocked when the pirate pops up!
Hot Potato
Hot Potato was a favorite with a bunch of my students. They even sell soft hot potatoes online that play music, so no worries about anyone getting hurt. It's a fun game to play as a class. You can adapt it as well. When the music stopped, whoever had the potato had to try to answer a question about the lesson that day.
Guess What?
Guess What is in the Bag/Box is a fun game too. Put random things into a pillowcase or box.. preferably things that are easier to identify by touch.. rock, sponge, crayon, etc. Students just take turns putting their hands in and guessing what they are touching! Or they can describe it to the class and the class guesses what they are touching.
Sight Word Games
This was a great game for emergent readers learning sight words. Write the words your kiddos know on the board and get into 2 teams ( or individual works too). Have 2 students go to the board, each holding a fly swatter. Say the sight word and the student who finds and hits the word first, wins that point.
Hang Man
Hang Man or Make the Flower is a fun filler game we used to play if we had a few minutes at the end of class. We called it 'Make the Flower' because Hang Man didn't sound school appropriate. We made some adaptations by writing the alphabet on the board and erasing letters as students guessed them. Students took turns going around the room guessing letters.
Jeopardy
Jeopardy is a fun game to play as a class. There are many online templates you can use and enter in your own questions (academic or fun). Students get to work in teams to win the game!
Dominoes
This is a game that requires students to know their numbers or to count and matching as well. A bit confusing with how the pieces might be laid down, but a game that through repetition can be learned and enjoyed!
Another way if that's too difficult is to use the dominoes to build cool paths and shapes to knock over! For multi leveled learners 😊
These are a few games for kids with Autism that I've used in my classroom over the years. They are varying in ability level so you'd have to make sure it's appropriate for the students you have. Some games definitely take time to learn rules and get used to playing, but through repetition and playing, some students learn to enjoy them! We have also brought general education students/peer buddies into class to play games with our kiddos, and it was AWESOME. It's a great way to get other students familiar with our students—and to build relationships with them.