Sensory Activities For Kids With Autism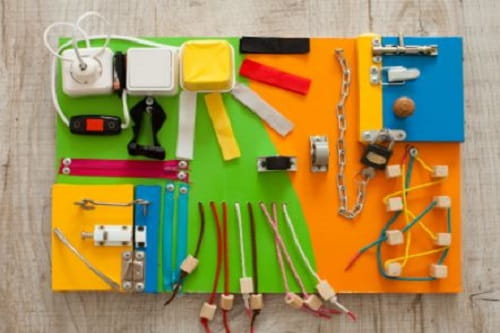 Sensory Activities for Kids with Autism
          Teachers and parents are ALWAYS looking for more activities to do with our kiddos who have Autism. Sensory activities are activities that engage one or more of the senses. Sensory learning/play provides opportunities for kids with Autism to stimulate their brains to improve sensory processing. As with most other things, other skills can be embedded into sensory play such as communication, social skills, and various life skills. Here are some ideas for sensory activities for kids with Autism.
Sensory bottles
There are so many different ways to do sensory bottles. You can make them with sand, water & baby oil, soapy water etc.
You can also put ANYTHING in a sensory bottle (beads, letter beads, mini ornaments, cotton balls, cut up pipe cleaners, sponge pieces, anything!)
Students can spend a lot of time trying to find certain letters or just seeing what cool items are inside of the sensory bottle.
These are easy to make and are great sensory activities for kids with Autism. Here is a video link to watch: https://www.youtube.com/watch?v=WKaQ292QMz4
Sand box/kinetic sand
Sandboxes, bins, or tables are fun because you can put cool tools in them like funnels, cups, scoops etc.
Kinetic sand is a less messy option and has a different texture your kids might enjoy!
You can get bins for cheap at Walmart or Target, and sand at Home Depot.
Rice box
This is similar to the sandbox. You can even find or make colored rice to make it more fun. In all the sensory bins, you can add cups, funnels, spoons, and other random tools for kids to play with.
You can even make seasonal rice boxes for winter, spring, fall, & summer with specific toys/tools. Just like the sand boxes, rice bins are great sensory activities for kids with Autism.
Shaving cream
Shaving cream is a oldie but goodie. It can also get messy so make sure your students are at a level where they can handle it and NOT put it in their mouths. It's a fun way to write their names, numbers, letters, etc.
Playdoh or clay
Kids can make letters and shapes with playdoh. They can practice fine motor skills like cutting as well. It's a fun and easy activity that most kids enjoy!
Slime
Kids love slime! It's easy to make and you can make it in different colors, add extras etc. An easy and safe recipe is: Elmer's liquid glue, baking soda, & contact solution. You can add food coloring or get colored glue. Kids can make their own batches and take them home.
Shoebox music
This is another type of sensory activity for kids with Autism. If you can save a few shoe boxes or tissue boxes and rubber bands, you can make strumming instruments.
Making a shaker
Fill jars, containers, or other items with rice, beads, sand etc. and glue them shut to make safe and fun shakers! Different fillings make different sounds.
Water play
Kids love water! This can be done in a bin or even outside in an open area with different water toys. Obviously not an in school activity for outdoor play, but can be fun on the weekends at home.
Water/soap/sponges, funnels etc.
This is the same as above but adding soap and bubbles makes it ever more fun!
Shredded paper bins
Another way to make a sensory bin. Use shredded paper! Use colored paper, add in cups, & other items and done!
Nuts & bolts     
Have students assemble nuts and bolts to have something to do with their hands. There are plastic ones that are affordable online. Students match the nuts/bolts and work on fine motor skills at the same time.
Macaroni necklaces or beading
You can have patterns for kids to follow or just have them make their own!
They are working on fine motor skills, following directions, etc. while doing hands on activities.
Bubble wrap
If you're ready for some noise, go for it! You can bubble wrap at a lot places in different sized bubbles. Kids can pop them with their hands or step on them!
Collecting and painting rocks/stones
Kids may enjoy collecting rocks, feeling the different textures, washing the rocks, and painting them! This can also be a cool activity where you paint or write messages on rocks and leave them for people to find.
Hiding Items
Hide items or letters inside things like foam, soap, sensory bottles, sand, etc. and have students look for certain letters or their name.
This is a fun way for students to play with sensory toys while also completing tasks. You can make a check sheet of what kids are looking for and they can check as they go.
Sensory wall
If you have little kids, a sensory wall is another cool idea and fairly easy to make. Save some paper towel rolls so kids can roll ping pong balls down them into a cup.
Water beads
A very fun sensory activity for kids with Autism. Amazon sells water beads for a very decent price. Use a bin, or tray with edges, so the beads don't spill over. Just add some water and give kids a spoon, little cups, and go for it!
Balloon filling (corn starch, rice, sand etc.)
These are a good activity to make for kids to have a persona toy (kind of like a fidget toy). Just be careful not to overfill it and kids should be careful not to rip the balloon.
Cardboard pages
Make them with glued on buttons, beads, cotton balls, etc. for students to touch
This can be made in binders with multiple pages with different textures for kids to play with.
Therapy balls (exercise balls)
These balls should be used with supervision and can be used for strengthening, exercises, core work, balance, ball massages, and bouncing.
Bouncy balls in crate (to make it immovable but still bounceable)
A creative way to make a wiggly seat but that is also safe so kids won't fall off or bounce too much while at their desk.
Tasting games (with gloves & pre prepared portions)
A fun way to incorporate the sense of taste. Of course be aware of allergies or food sensitivities before doing this. Kids can close their eyes and guess what they are tasting!
Cube box (kind of like a dice, wrapped in paper – write different activities on each side i.e. jumping jacks, balance on one leg etc.)
You can make these for different purposes. They can be for physical or academic tasks.
Fidget toys
These are small and cheap items that kids can use while at their desk, on break if they need a minute, or just need something in their hands.
There are a few websites out there that do sell sensory items. You can start looking here and find cheaper DIY options if needed!
Sensory activities for kids with Autism are a great idea to incorporate into the day, whether you are a teacher or a parent. They can be used as leisure activities, incorporated into academic tasks, used as a calming strategy etc. You can also teach about so much more when doing sensory activities like communication, taking turns, social skills, fine motor skills, & more!!