Special Education Math Curriculum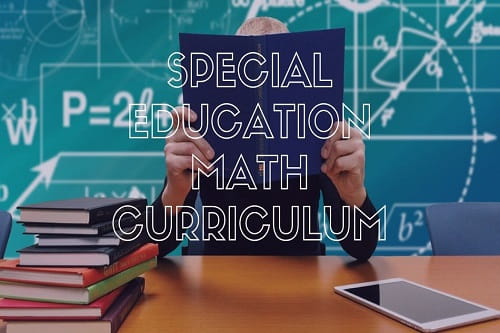 One of hardest things to do when it comes to instruction in the classroom is finding a curriculum that meets the needs of all our levels of learners. We know that in one classroom we can gave students on 5+ levels of Reading or Math and scattered skills even within those levels. So trying to choose 1 Special Education Math Curriculum to fit the needs of all the students in your classroom is nearly impossible. On top of that, sometimes the while the curriculum we use have good lessons/strategies, they are time intensive (1 hour every day, which with block scheduling and multiple levels in each class is a crazy big task) and don't even cover IEP goals that need to be addressed.
Regardless of all those hurdles, we have to all teach a Special Education Math Curriculum, so how do we go about choosing one and how do we design instruction so that our students are getting specific curriculum AND all of their IEP goals addressed as well? Below we look at a few comprehensive evidence-based Math programs. At one point or another during my teaching career, I have used all of these programs below. Of course, there won't be one best program that will meet the needs of all of your students. You may have to talk to someone from your county/school system as well since most of these programs are pricey.
Special Education Math Curriculum Review
Connecting Math Concepts
According to the CMC website, "Connecting Math Concepts introduces ideas gradually and teaches students the connections between concepts. Focusing on the big ideas of mathematics, Connecting Math Concepts teaches explicit strategies that enable students to master difficult ideas such as ratios, proportions, probability, functions, and data analysis. Detailed explanations and guided practice move students toward independent work, ensuring that they gain success and confidence as mathematical thinkers".
This is a comprehensive math curriculum that aims to teach students the connections between different concepts. They start with simple, basic skills and then teach strategies to slowly builds on those skills in order to teach students more difficult concepts/skills. Before starting, there is a placement test to assess students and decide what level is appropriate for them. This program has Levels A-F. Level A starts with pictures, tallying, counting, and other simple skills. Level E/F goes into calculating fractions and other more difficult skills. Each level includes a student workbook, teacher materials, and the harder levels include a student textbook as well.
It is a easy to follow curriculum. The teacher workbook gives you step by step (even verbatim dialogue) to follow when instructing students. This program is best done in small group or 1:1 depending on the level of the students. The difficult thing is that they recommend to do it daily, but with block scheduling in a high school environment, it's not a realistic option.
My personal experience with this curriculum has been positive so far. I found it easy to use, prep, and follow when administering it. I have been able to see my students learn basic skills and build on them after working with them for the duration of the year. If you're looking for 1 program that you can use in your classroom that can address the needs of most of your students, look into CMC. They also have videos on YouTube if you need to watch the lesson being done.
https://www.mheducation.com/prek-12/program/connecting-math-concepts/MKTSP-UUF06M0.html?page=1&sortby=title&order=asc&bu=seg
Attainment Company Math Curriculum: Teaching to Standards
                According the Attainment website, this program is "a research-and standards-based curriculum for secondary students to learn geometry, algebra, data analysis, and measurement concepts. The program aligns with common core, state standards, and NCTM standards. This program fosters independence by systematically fading prompts as students move through lessons. Story problems connect math concepts with students' real life".
This program was pretty easy to follow and administer as well. It comes with a student workbook, student book, implementation guide, posters, and other concrete materials to teach the lessons. They also give you a disc, which allows you to access some materials online. This program does do a good job providing situations and examples that reflect real fife (grocery stores, etc.). I felt that it didn't take long to read through and understand the directions on your own before implementing. Once I figured out the lesson plan and what materials went with what, it was smooth sailing. My students seemed responsive to this program.
https://www.attainmentcompany.com/teaching-standards-math
Hands on Math
                Hands on Math is a program used for students with more severe disabilities. This program is also made by the Attainment Company. It is a "standards-based program taught with manipulatives to transition students from concrete to abstract math concepts. It teaches a wide range of standards-based math lessons to students with an intellectual disability and/or autism, regardless of age", according to the Attainment website.
It comes with a lot of hands on manipulatives, a teacher's guide, a disc for assessment forms, and a number book. This program is extremely easy to follow and implement. While I understood the lessons, it was easy to implement, and my students participated in the of lessons, I think this is an average program. I don't think it was totally appropriate for the few students I had using it at the time. I think this program is definitely beneficial for certain students on certain levels of functioning. So make sure you take a closer look and talk to your curriculum people before purchasing so make sure it's a good fit!
https://www.attainmentcompany.com/hands-on-math
Touch Math
                Touch Math is a "multisensory math program that uses the numeral itself as a manipulative. Touch Math makes critical math concepts appealing and accessible for students who struggle to understand grade-level content", according to the Touch Math website. This program allows students to work at their own pace through scaffolded instruction. Touch Math presents information in multiple ways to teach all types of learners (visual, auditory, kinesthetic).
I used Touch Math earlier in my teaching career and I did find this program to be helpful and very beneficial for some students.  When I got students who came up already using this program, I could see them apply techniques/strategies they had been learning (by manipulating the number and using touch points) to learn other skills. If you have students who need hands on learning but are also capable of learning some more difficult math skills, take a look!
Early Numeracy
                Early Numeracy is also a curriculum made by the Attainment Company. The site describes it as "a research- and standards-based curriculum for elementary students to learn number sense; precursor for secondary curricula like Teaching to Standards: Math". This program is for your early learners who are really just learning number sense. Most students on this program have significant intellectual disabilities.  It uses a lot of hands on materials and manipulatives to teach simple math. The program teaches skills such as one-to-one correspondence, rote counting, number identification etc.
This is the only program I did not get to actually implement but did see a few of my colleagues use in their classrooms. It was helpful for some of our low level learners who had significant disabilities. If you have students in that population, check it out!
https://www.attainmentcompany.com/early-numeracy-curriculum
TransMath (Algebra- broken into Algebra 1 Part 1, etc.)
                According to the website, "TransMath is a comprehensive math intervention that targets middle and high school students who lack the foundational skills necessary for entry into algebra and/or who are 2 or more years below grade level in math". This program comes with an online login to access all materials and text, textbook, workbooks, and teacher guides.
Depending on what level of Math you teach in Special Education, this might be for your students. This program is for students who could be borderline LD/ID (learning disabilities/intellectual disabilities). It definitely is a good program that is easy to teach and follow, but students do need background knowledge and certain skills before they can use this program. They need to have their multiplication/division facts down and understand some abstract concepts or they will have a hard time in this program. There are different levels, so depending on which one your students place at, or their age, your curriculum specialist may recommend a certain one.
I personally did like this program. It was easy to implement and follow along. The only tough thing for me personally is that I had to start on a certain level b/c of the age of my students (high school). I found that my students did not all have enough background knowledge to truly grasp concepts. This resulted in me having to go back and reteach many skills, which did make progress slower. The program has an estimated time frame that you should be moving your class through.
The other great thing is that you can log everyone's scores online and it keeps track of everything in the program. Assessments and activities are completed online, so your students will need some computer skills. (Not absolutely necessary, b/c you could print it all off and do it on paper.) Check it out if you have students who may fell in the in between level.
https://www.voyagersopris.com/math/transmath/overview
These are very general outlines of these Special Education Math Curriculums. Depending on your student's needs, program value will vary. Check them out more closely to see if they fit the needs of your classroom!
The tough thing about teaching high school Mathematics was the block scheduling. The fact that we only saw students every other day made it difficult when these programs were calling for daily implementation. That is why I had to jam pack and make the most of every 90 minute block. Another difficulty was that I had students on every level! There was not enough time to implement all these programs and spend the time necessary teaching them ON TOP OF WORKING ON IEP GOALS!!!! IF you are somehow able to write IEP goals that are appropriate for the student but a
Designing/Planning a Full Period of Special Education Mathematics Instruction (90 min block scheduling)
This does take a lot of upfront planning, but once you have put in the work to build the plan – the lesson planning is a lot easier and your class runs smoothly, especially after students understand your routines and what will happen each Math class. If you have assistants, that would be an ideal situation. You could split the class into 2-3 groups. Here's an example of my Math class. I used CMC and had students on 5 different levels.
Group 1: I had 15-20 minute sessions with each group/level of CMC (In my school, assistants were not trained in curriculum so I was the only one allowed to implement the programs but if yours are trained, EVEN BETTER. You can split groups smaller if you need.
Some days I had to adjust times for each group depending on how long lessons were. I had to be aware of the time in order to fit all 5 groups in. It is ideal to have more time to work with each group, especially when some students move at different levels and are on the same level but different lesson… that's when it gets tough. You have to figure how to go back and forth a bit. Each lesson does have an independent work part so you can work with one while other is doing their work.
Group 2: Independent work for IEP goals
This is work that either I made or found that align with IEP goals. I try to have students be has independent as possible, however the sometimes it's necessary for the assistant to help and guide this group as well.
You may need an assistant to review steps/skills here with students
Sometimes you may need to come to this group in order offer whatever assistance on skills is needed
Group 3: Supplemental activities for skill reinforcement (with assistant)
This consisted of math worksheets, games, hands on math activities, file folders, anything like that)
Your class will look different based on your students, the program you choose, and the level of support you're able to give. Just know the initial planning for special education math curriculum implementation is difficult, but once you get a system that works, you're good to go.
There is no one special education math curriculum that works for all, especially because of the diverse needs of our students. So do your research, consult with any curriculum specialists or experienced coworkers you may have to make the right choice in program. They are pricey so you want to be sure! Over time though, at my school we accumulated many different programs so we were able to implement different programs to different students in the same class, if needed.
Good luck!!!